What is Cryptosporidiosis?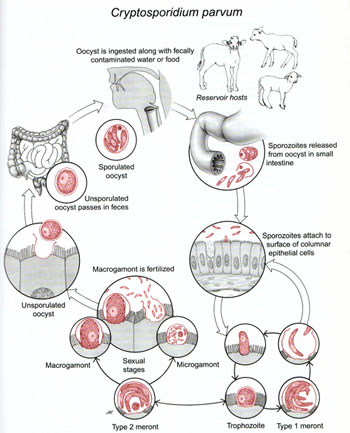 Cryptosporidiosis (crypto) is a common parasitic disease of many neonatal mammals worldwide, commonly affecting calves, lambs, kids, piglets and foals, caused by the protozoan organism Cryptosporidium parvum. Crypto commonly affects calves from one to four weeks of age. The disease is characterised by profuse watery, mucoid and sometimes bloody diarrhoea with anorexia, followed by dehydration and sometimes death. Although usually self limiting, the diarrhoea may be persistent and resistant to therapy. Other symptoms include abdominal discomfort and mild fever.
Although mortality is usually fairly low, morbidity is high and calves that recover from crypto are often growth compromised due to permanent damage to the villi of the small intestine. Mortality is increased during a cold spell, or when crypto is allowed to take hold in combination with bacterial or viral challenge, or where a milk reduction protocol for scouring calves is followed.
Oocysts of cryptosporidium will be shed in the faeces for the duration of the diarrhoea and may persist for several days after the clinical symptoms have abated. Calf to calf transmission via faeces contamination of food or water, as well as vector transmission (flies, rodents) onto food or water sources is common during this time. Since oocyst shedding can begin as early as two days of age, it implies very early neonatal susceptibility to the organism. Calves can shed up to 1 000 000 oocysts per gram of faeces, with the ingestion of as few as 10 oocysts capable of causing infection in susceptible calves. Adult animals, although asymptomatic, have been shown to shedoocysts therefore acting as a reservoir for the infection of her calf.